If you are a marketing student, then you need to have knowledge of Digital Marketing to move forward in your career. Right now, Digital marketing is one of the most in-demand skills in the industry. Companies are looking for digital marketing specialists who will help them run their marketing campaigns in the digital world. 
With that in mind, we at 360Career were curious as to how one could get involved in the business. We looked into different Digital Marketing Institutes and the courses they offered. We wanted to make a comparison for you, our reader, so you could make an informed decision about which institutes and courses to pursue. But first, let's start with some considerations to keep in mind when you research different courses and institutes in order to make the greatest decision for you.
Criteria For Choosing The Right Course
1.  Understanding your requirements
Before opting for any course, first, sort out your needs. Find out the reason behind doing the course and your expected outcome.
2.  Choosing 'self-learning' or 'mentor-led training'
Your mode of learning may depend on whether you like to self-learn or like to be mentored. So, choose wisely between the two.
3.  Understanding the Course Structure and Trainers
Make sure to check the modules of the courses and also research about the trainers that will teach you.
4.  Practical Component and Career Guidance
Internships, live projects, and thesis are highly important when it comes to proving to employers your worth.
5.  Know their Fees and Schedule
Every course has different intensity of training and fee structure. So your task is to find the right balance between your budget and maximizing the knowledge you get from a course.
6.  Sign up for a Free/ Demo Session
You must 100% sign up for not 1 but 2 demo sessions if required. 
Now, that you know what to keep in mind while finding the best courses for yourself. Let's move on to the comparison table we have prepared for you to get an idea of the courses and their teaching methods.
Comparison Table – IIDE vs Simplilearn vs MICA
IIDE

Simplilearn

MICA

Admission Difficulty

Moderate

Easy

Easy

Mode of Teaching

Instructor-Led




Live Sessions +




Video Lectures

Video Lectures




+ Few Live Online




Sessions

Live Lectures




+ Video Lectures

Mentor-led Live Classes

Video Recorded Courses

Doubt Solving Sessions

N/A

Live Projects

8+

N/A

N/A

Case Studies

Practical Training

Managerial Skills

Visiting Faculty

N/A

Assignments

9+

N/A

Assessments

MCQ

MCQ

N/A

Final Exam

Certification

Career Guidance

N/A

Placement Support

N/A

Course Duration

4-5 Months




70+ Hours of




Live Learning

12 months

4.5 Months

Ratings

4.8 on Google




(700+ Reviews)

4.7 on Google




(3,646 Reviews)

4.6 on Google




(189 Reviews)

Fees

INR 1,15,000

INR 59,999




+ Taxes

INR 80,000




+ Taxes

Location

Delhi, Mumbai




+ Online

Online

Online

Contact Details

Phone:




+91 9619958615





Website:

iide.co

Phone:




18002127688





Website:




simplilearn.com

Phone:




+91 2717688198





Website:




mica.ac.in
Detailed Information About the Courses 
We have done some further research for you and written an in-depth overview of the type of courses the digital marketing institutes are offering. The following courses are the best institutes in India for digital marketing according to our research. So in no particular order, here are the top digital marketing institutes.
1. IIDE
This online digital marketing course by IIDE is 4 – 5 months long with intensive mentor-led training made especially for fresh graduates, college students, and professionals looking to take an upskilling break.
IIDE or the Indian Institute of Digital Education is located in the heart of Mumbai, the hub of marketing and ad agencies.Being one of the best institutes for Digital Marketing Courses, it offers a multitude of courses, from MBA-equivalent Post Graduation Diploma courses, Advanced Online Digital marketing Certification courses to individual short courses in digital marketing, they have covered all needs of the learners. On top of that, they have a robust placement cell and brilliant alumni.
This course covers all the facets of digital marketing and has a key focus on social media marketing and Search Engine Optimisation, the two most important domains in digital marketing.

The course learning methodology of the course is – First watch Pre-recorded Lectures, then learn directly from your Trainer in Live Sessions and follow it up with 1-on-1 personalized mentor sessions for 100% mastery of the topic.
The faculty includes industry thought leaders having worked for companies like Facebook, Google, Pepperfry.com, Kinnect, FoxyMoron, Schbang, etc.
Student Reviews: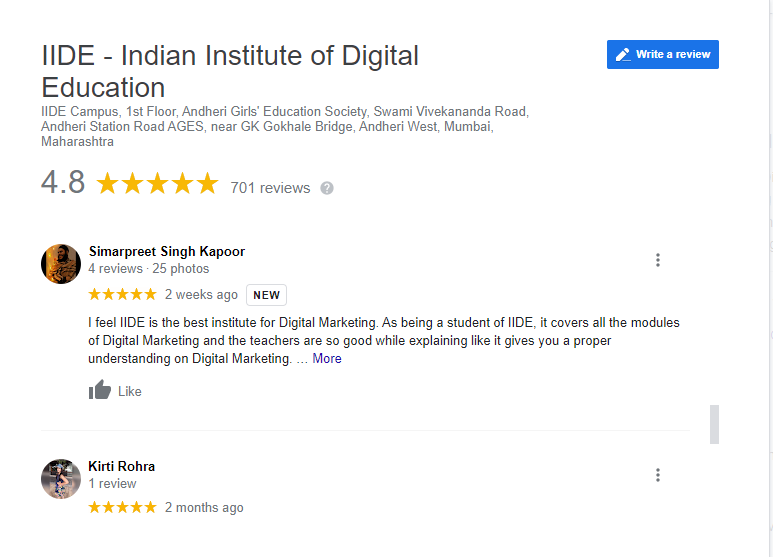 2. Simplilearn
This is one of the stand-alone courses in digital marketing by Simplilearn that helps aspiring marketers gain knowledge about the various aspects of digital marketing. Based in San Francisco and Bangalore, Simplilearn is another big platform for upskilling courses. They provide digital courses through either in-house training campaigns courses or in a few cases through collaboration with other colleges.
They also provide online training in disciplines such as Cyber Security, Cloud Computing, and Digital Marketing among others. In other words, they specialize in imparting technical training to people who wish to slowly train while they do continue with their job. But enough about the institute, let us take a look at the topics they cover in their course, in order to help students gain knowledge regarding digital marketing
Simplilearn's 11-months digital marketing course covers 6 important fields of digital marketing and offers the option of 5 add-on courses to specialize in. You'll be exposed to 40+ digital marketing tools. The course is slower than the other two courses we have discussed and the majority of the studies in the course will be self-driven, with occasional live sessions. After completing Simplilearn's digital marketing course, you will receive a certificate of completion from Simplilearn.
Student Reviews: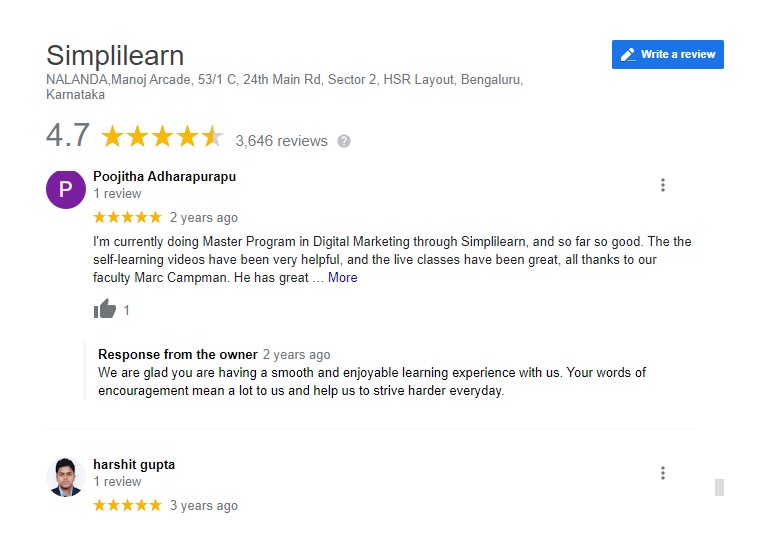 3. MICA
MICA (Formerly Mudra Institute of Communications, Ahmedabad) was founded in 1991 as the country's first residential institute, and possibly the Asia-Pacific region's first, dedicated to satisfying the industry, government, and community's integrated marketing communication demands.
The goal of the MICA's Advanced Digital Marketing Programme is to familiarise participants with major components of digital marketing. The participant should obtain practical experience in the digital marketing domain and gain a better understanding of the structure that underpins online marketing organizations and operations. MICA's Digital marketing course module includes topics such as Web Analytics, Search Marketing, Mobile Marketing, etc.
In MICA'S digital marketing course contrast to solitary learning in recorded sessions, live sessions with faculty allow for one-on-one interactions to help learners resolve all of their questions. MICA's specialized student support team will walk you through the course, and their tech support team will be available live during sessions to ensure that you have a smooth learning experience. Join MICA's digital marketing program to get hands-on learning experience with case studies, projects, and simulations from renowned professors.
Student Review:
Conclusion
According to our evaluation, no matter which institutes you decide to opt for, all of them would provide quality education in the field of digital marketing. The certified digital marketing courses provided by IIDE, Simplilearn, and MICA are taught through live classes and video recorded lectures which will help get an in-depth understanding of the various topics.
But, if you are more inclined to learn through practical learning then we would suggest you check out IIDE or MICA's digital marketing courses, as they provide practical learning opportunities. IIDE's digital marketing also provides training in managerial skills to make you industry-ready.
Always keep in mind that a good course can help you save time in the learning process. So, double-check the type of courses, you're enrolling in and whether it's online or offline. We hope you gained a better idea of what institutes are available and how to choose the right one for you as a result of this article.