Digital marketing disciplines have become a must-have for students trying to enter the marketing sector, as well as for professionals looking to upskill and advance their careers. With that in mind, we at 360Career were curious as to how one could get involved in the business. We looked into different Digital Marketing Institutes and the courses they offered.
We wanted to make a comparison for you, our reader, so you could make an informed decision about which colleges and courses to pursue. This article also provides considerations to keep in mind when deciding which course to take. We hope you find our research on the best digital marketing schools to be helpful. If you want to learn about the nitty-gritty of Digital Marketing, you must choose a suitable college and course. Here are five things to think about before starting a training program.
Criteria For Choosing The Course
1.  Understanding your requirements
Before opting for any course, first, sort out your needs. Find out the reason behind doing the course and your expected outcome.
2.  Choosing 'self-learning' or 'mentor-led training'
Your mode of learning may depend on whether you like to self-learn or like to be mentored. So, choose wisely between the two.
3.  Understanding the Course Structure and Trainers
Make sure to check the modules of the courses and also research about the trainers that will teach you.
4.  Practical Component and Career Guidance
Internships, live projects, and thesis are highly important when it comes to proving to employers your worth.
5.  Know their Fees and Schedule
Every course has different intensity of training and fee structure. So your task is to find the right balance between your budget and maximizing the knowledge you get from a course.
6.  Sign up for a Free/ Demo Session
You must 100% sign up for not 1 but 2 demo sessions if required. 
Let's now dive right into the comparison between IIDE, NIDM, and NIHT
Comparison – IIDE vs NIDM vs NIHT
IIDE

NIDM

NIHT

Admission Difficulty

Moderate

Easy

Easy

Mode of teaching

Instructor-Led




Live Sessions +




Video Lectures

Instructor-Led




Live Sessions

Instructor-Led




Live Sessions

Mentor-led Live Classes

Video Recorded Courses

N/A

N/A

Doubt solving sessions

N/A

N/A

Live Projects

8+

N/A

Case Studies

N/A

Practical Training

Managerial skills

Visiting faculty

N/A

N/A

Assignments

9+

N/A

N/A

Assessments

MCQ

N/A

N/A

Final Exam

Certification

Career Guidance

Placement Support

Course Duration

4 -5 Months




70+ Hours of




Live Learning

3 months




150+ Hours

3- 6 Months




108+ Hours




Of Training

Ratings

4.8 on Google




(700+ Reviews)

4.7 on Google
(700+ Reviews)

4.8 on Google




(21 Reviews)

Fees

INR 1,15,000

N/A

N/A

Location

Delhi, Mumbai +




Online

Bangalore +




Online

Banaglore+




Online

Contact Details

Phone:




+91 9619958615





Website:




iide.co

Phone:




+91 9611361147





Website:




nidmindia.com

Phone:




+91 98302 69100





Website:




nihtdigitalmarketing.com
Detailed Information About the Courses 
We have done some further research for you and written an in-depth overview of the type of courses the digital marketing institutes are offering. The following courses are the best institutes in India for digital marketing according to our research. So in no particular order, here are the top digital marketing institutes.
1. IIDE
This online digital marketing course by IIDE is 4 – 5 months long with intensive mentor-led training made especially for fresh graduates, college students, and professionals looking to take an upskilling break.
IIDE or the Indian Institute of Digital Education is located in the heart of Mumbai, the hub of marketing and ad agencies. Being one of the best institutes for Digital Marketing Courses, it offers a multitude of courses, from MBA-equivalent Post Graduation Diploma courses, Advanced Online Digital marketing Certification courses to individual short courses in digital marketing, they have covered all needs of the learners.
On top of that, they have a robust placement cell and brilliant alumni. This course covers all the facets of digital marketing and has a key focus on social media marketing and Search Engine Optimisation, the two most important domains in digital marketing.

The course learning methodology of the course is – First watch Pre-recorded Lectures, then learn directly from your Trainer in Live Sessions and follow it up with 1-on-1 personalized mentor sessions for 100% mastery of the topic.
The faculty includes industry thought leaders having worked for companies like Facebook, Google, Pepperfry.com, Kinnect, FoxyMoron, Schbang, etc.
Student Reviews: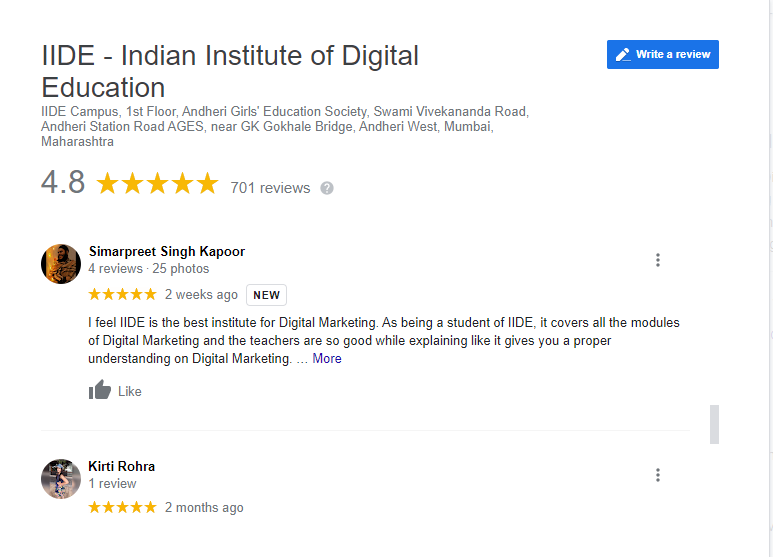 2. NIDM – National Institute Of Digital Marketing
National Institute Of Digital Marketing was founded in 2011 with the goal of creating successful careers in the digital marketing industry. Since then, they have trained over 2000+ batches and over 20000 students.

NIDM's Advanced Digital Marketing Executive Program is designed for those who want to actively implement a Digital Marketing strategy in their company. The content is designed to guarantee that your firm has a solid foundation for its digital marketing plan, as well as advanced content that attendees can immediately use and implement. Their course structure includes topics such as Digital marketing foundation, SEO, SEM, Growth Hacking, and many more. You can check out the course syllabus on their website for more information
Beginning with the fundamentals of marketing, the NIDM program focuses on laying a strong foundation in marketing and digital marketing, covering essential concepts such as segmentation, targeting, and positioning, advertising and sales promotions, integrated marketing communications, product and brand management, and digital models and channels.
This course is suitable for anyone who is lookout for job advancement and gaining new abilities or for those in the field of digital marketing who wish to advance their careers.
Student Reviews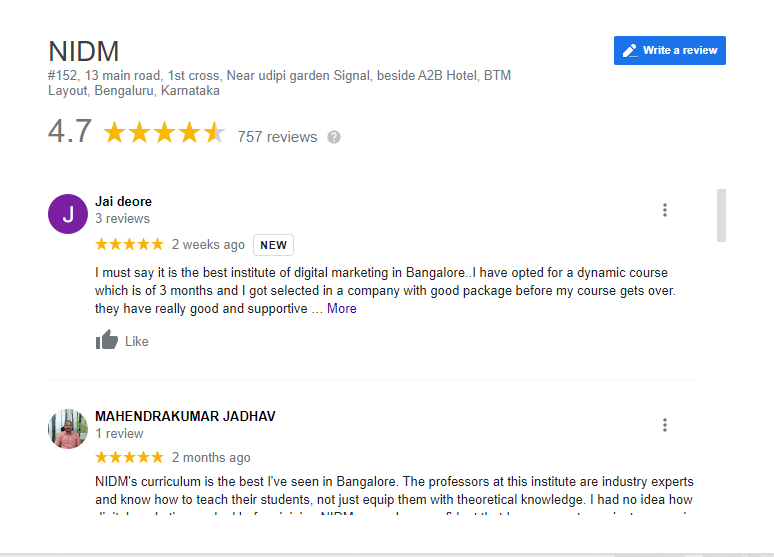 3. NIHT
Since its inception in 2005, NIHT's main goal is to harness the potential of digital marketing and disseminate it across sectors. They help their clients unleash the full potential of their business and create a social identity for their brands.
NIHT offers a number of digital marketing courses to meet your learning goals, whether you are an aspiring entrepreneur, a top executive, a recent graduate, or simply someone who wants to learn more about the field of digital marketing. Their team of professional educators will teach you the skills you need to succeed in the modern world, using the most up-to-date techniques and technologies. NIHT's Digital Marketing Training includes modules such as Search Engine Optimization, Google Tag Manager, Social Media Marketing, Google Analytics (GA4) and many other aspects of the digital marketing field.
NIHT's digital marketing covers all marketing aspects that one needs to have knowledge of to start their career in the field of digital marketing. Through NIHT's Digital marketing training you will be able to learn the ins and outs of Digital Marketing, acquire employable industry skills, and plan marketing strategies for your business. Here, are the key highlights of the program.
Student Reviews
Conclusion
There are many digital marketing courses available in India, but choosing the right one can be tough. Always remember that digital marketing is a hands-on field, so if you think you can learn without taking a class, go ahead. A good course, on the other hand, can help you save time while studying, and if you prefer traditional methods of instruction, a course is an excellent option.
Always double-check the course type and whether it's online or offline before registering. With that, we hope you have a better understanding of what institutes are accessible and how to choose the perfect one for you.