If you want to learn digital marketing and are looking for the finest schools, we're sure you've come across IIDE, Great Learning, and Digital Vidya's digital marketing courses. These universities are among the greatest in the world today. As a result, we've prepared this article after conducting extensive research to assist you in comparing all three in one place.
Continue reading to discover about the variations in digital marketing courses offered by IIDE, Great Learning, and Digital Vidya, as well as a comprehensive overview of all three institutes. But first, let's start with some considerations to keep in mind when you research different courses and institutes in order to make the greatest decision for you.
Criteria For Choosing The Right Course
1.  Understanding your requirements
Before opting for any course, first, sort out your needs. Find out the reason behind doing the course and your expected outcome.
2.  Choosing 'self-learning' or 'mentor-led training'
Your mode of learning may depend on whether you like to self-learn or like to be mentored. So, choose wisely between the two.
3.  Understanding the Course Structure and Trainers
Make sure to check the modules of the courses and also research about the trainers that will teach you.
4.  Practical Component and Career Guidance
Internships, live projects, and thesis are highly important when it comes to proving to employers your worth.
5.  Know their Fees and Schedule
Every course has different intensity of training and fee structure. So your task is to find the right balance between your budget and maximizing the knowledge you get from a course.
6.  Sign up for a Free/ Demo Session
You must 100% sign up for not 1 but 2 demo sessions if required. 
Let's now dive right into the comparison between IIDE, Great Learning, and Digital Vidya.
Comparison – IIDE vs Great Learning vs Digital Vidya
IIDE

Great Learning

Digital Vidya

Admission Difficulty

Moderate

Moderate

Easy

Mode of teaching

Instructor-Led




Live Sessions




+ Video Lectures

Instructor-Led




Live Sessions

Instructor-Led




Live Sessions

Mentor-led Live Classes

Video Recorded Courses

N/A

Doubt solving sessions

N/A

Live Projects

8+

N/A

Case Studies

Practical Training

Managerial skills

Visiting faculty

Assignments

9+

N/A

Assessments

MCQ

N/A

Final Exam

N/A

Certification

Career Guidance

Placement Support

N/A

Course Duration

4-5 Months




70+ Hours of




Live Learning

6 months




300+ Hours




of Learning

4-8 months




100+ Hours




of Training

Ratings

4.8 on Google




(700 Reviews)

4.4 on Google




(416 Reviews)

3.5 on Google




(15 Reviews)

Fees

INR 1,15,000

INR 1,25,000




+ Taxes

INR 49,900




+ Taxes

Location

Delhi, Mumbai




+ Online

Online

Online

Contact Details

Phone:




+91 9619958615





Website:




iide.co

Phone:


+91 8042168700



Website:




mygreatlearning.com

Phone:




+91 8010033033





Website:




digitalvidya.com
Detailed Information About the Courses 
We have done some further research for you and written an in-depth overview of the type of courses the digital marketing institutes are offering. The following courses are the best institutes in India for digital marketing according to our research. So in no particular order, here are the top digital marketing institutes.
1. IIDE
This online digital marketing course by IIDE is 4 – 5 months long with intensive mentor-led training made especially for fresh graduates, college students, and professionals looking to take an upskilling break.
IIDE or the Indian Institute of Digital Education is located in the heart of Mumbai, the hub of marketing and ad agencies. Being one of the best institutes for Digital Marketing Courses, it offers a multitude of courses, from MBA-equivalent Post Graduation Diploma courses, Advanced Online Digital marketing Certification courses to individual short courses in digital marketing, they have covered all needs of the learners.
On top of that, they have a robust placement cell and brilliant alumni. This course covers all the facets of digital marketing and has a key focus on social media marketing and Search Engine Optimisation, the two most important domains in digital marketing.

The course learning methodology of the course is – First watch Pre-recorded Lectures, then learn directly from your Trainer on Live Sessions and follow it up with 1-on-1 personalized mentor sessions for 100% mastery of the topic.
The faculty includes industry thought leaders having worked for companies like Facebook, Google, Pepperfry.com, Kinnect, FoxyMoron, Schbang, etc.
Student Reviews: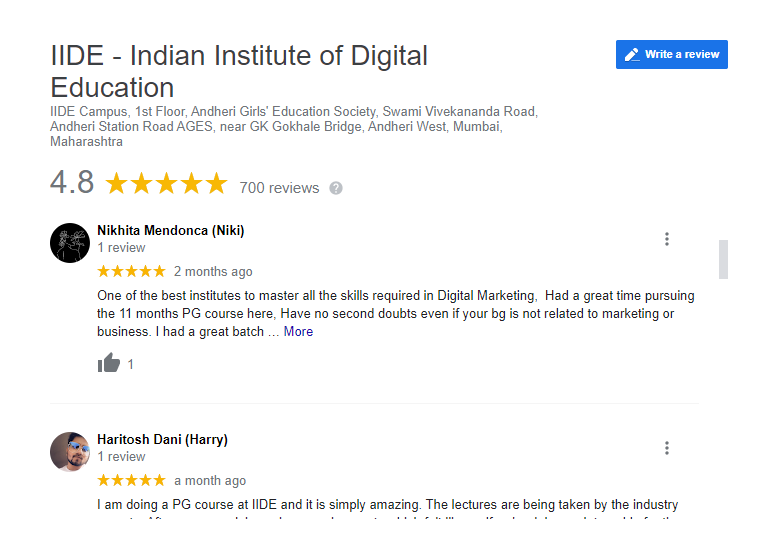 2. Great Learning
With Great Lakes & Great Learning's Post Graduate Program in Strategic Digital Marketing, you can dive into the exciting world of digital marketing. It's been created to help you develop the skills you'll need for a successful digital marketing career in a fun, project-based learning environment. You will learn from experienced digital marketers in Great Learning's Digital marketing course, giving you an advantage in the business even before you start your work.
When it comes to jobs, their focused career help guarantees that you find the ideal one for you. Great Learning's digital marketing course covers the following modules Performance Marketing, Integrated Digital Marketing, Web Analytics, and other digital marketing topics.
Great Learnings Digital marketing course gives you the opportunity to set up live campaigns across various platforms. Their course structure which covers all the main aspects of digital marketing not only helps you gain knowledge of the topics but also master the various digital marketing tools. Great Learnings end-term Capstone project will help you apply the knowledge you have learned practically during the length of the course.
Student Reviews: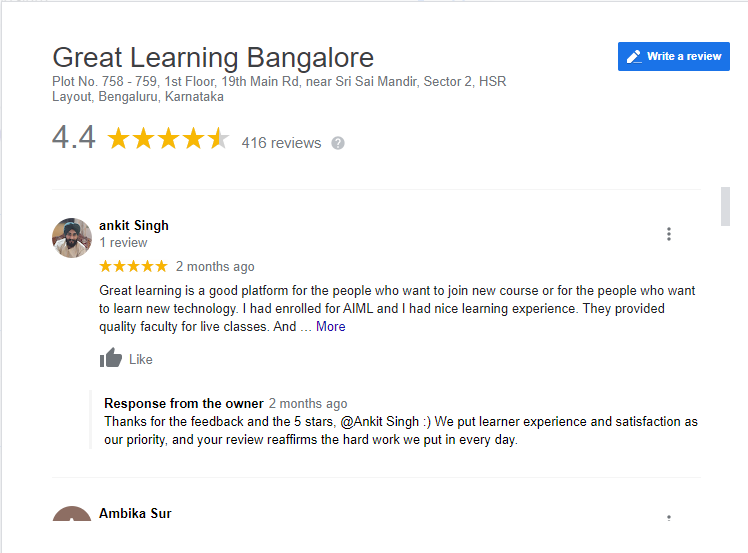 3. Digital Vidya
Established in 2009, Digital Vidya is a well-established brand in the digital marketing course space. They provide multiple courses aimed at students, professionals, and freelancers. Digital Vidya's digital marketing training is for everyone who wants to learn digital marketing and along with online it also conducts offline classes in a few areas of Delhi. 
Depending on the importance and effectiveness of each domain, the number of modules in this Digital Marketing course will vary. Each module will be provided in one week on average. Digital Vidya will have many online classes each week to ensure that you study all of the modules of Digital Marketing in the time allotted.
Digital Vidya offers extensive courses in Data Science, Data Analytics, and Digital Marketing. In that category of coding-related education, they also have a video-on-demand course for the same. The institute only has online formats for their courses, though they are led by well-experienced trainers. They offer courses in Data Science and Digital Marketing courses.
 Student Reviews:
Conclusion
The need for appropriate training is demanded by the industry because digital marketing is a practical profession. Whether you choose to learn on your own or with the help of a mentor, it is always a good idea to enroll in a course to ensure that you cover all of the major topics and are not at a disadvantage.
Choosing a course is a huge decision because it requires you to invest a lot of money and time. Instead of bending over backward to do everything at once, choose courses that cater to your needs easily. A bright lining to the COVID 19 scenario is that quality education is now being delivered through online channels. One can now upskill themselves from the safety and convenience of their own home.