In today's age of the internet, gadgets, and technology, digital marketing has become one of the trendiest sectors. It is a necessary talent not just for marketers, but also for business owners and entrepreneurs. Surprisingly, digital marketing has a huge deficit, with demand far outnumbering supply. A Digital Marketing certification can now be obtained from the comfort of one's own home.
Several famous colleges and industry experts are now offering online digital marketing training programs that involve hands-on projects and practical assignments to teach vital digital marketing skills. Traditional university degree programs are less customizable and more expensive than these courses. So, to assist you in finding the finest digital marketing school for you, we've reviewed the top three options. However, first and foremost let us take a look at what things to keep in mind while enrolling for any course.
Criteria For Choosing The Right Course
1.  Understanding your requirements
Before opting for any course, first, sort out your needs. Find out the reason behind doing the course and your expected outcome.
2.  Choosing 'self-learning' or 'mentor-led training'
Your mode of learning may depend on whether you like to self-learn or like to be mentored. So, choose wisely between the two.
3.  Understanding the Course Structure and Trainers
Make sure to check the modules of the courses and also research about the trainers that will teach you.
4.  Practical Component and Career Guidance
Internships, live projects, and thesis are highly important when it comes to proving to employers your worth.
5.  Know their Fees and Schedule
Every course has different intensity of training and fee structure. So your task is to find the right balance between your budget and maximizing the knowledge you get from a course.
6.  Sign up for a Free/ Demo Session
You must 100% sign up for not 1 but 2 demo sessions if required. 
Let's now dive right into the comparison between IIDE, Techstack, and DIDM
Comparison – IIDE vs Techstack vs DIDM
IIDE

Techstack

DIDM

Admission Difficulty

Moderate

Easy

Easy

Mode of teaching

Instructor-Led




On Campus Sessions +




2 month Internship

Online +




Classroom




Learning

Online +




Classroom




Learning

Mentor-led Live Classes

Video Recorded Courses

N/A

Doubt solving sessions

N/A

N/A

Live Projects

13+

Case Studies

N/A

Practical Training

Managerial skills

Visiting faculty

Assignments

9+

Assessments

MCQ

N/A

Final Exam

Certification

Career Guidance

Placement Support

Course Duration

11 Months




400+ Hours of




Offline Learning

3-6 or




1

8 Months

3-6 Months

Ratings

4.8 on Google




(

700 Reviews)

4.8 on Google




(1182 Reviews)

4.7 on Google




(225 Reviews)

Fees

INR 5,28,000

INR 11,000




Per Month

INR 39,518

Location

Delhi + Mumbai + Online

Delhi + Online

Delhi + Online

Contact Details

Phone:




+91 9619958615





Website:




iide.co

Phone:




+91 931984 4494





Website:




techstack.in

Phone:




+91 8800505151





Website:




didm.in
Detailed Information About the Courses 
We have done some further research for you and written an in-depth overview of the type of courses the digital marketing institutes are offering. The following courses are the best institutes in India for digital marketing according to our research. So in no particular order, here are the top digital marketing institutes.
1. IIDE
This MBA -Level Post Graduation in digital marketing course by IIDE is 11 months long with intensive mentor-led training made especially for fresh graduates, college students, and professionals looking to take an upskilling break.
IIDE or the Indian Institute of Digital Education is located in the heart of Mumbai, the hub of marketing and ad agencies. Being one of the best institutes for Digital Marketing Courses, it offers a multitude of courses, from MBA-equivalent Post Graduation Diploma courses, Advanced Online Digital marketing Certification courses to individual short courses in digital marketing, they have covered all needs of the learners.
On top of that, they have brilliant alumni and a robust placement cell that provides 100% guaranteed placements. This course covers all the facets of digital marketing and has a key focus on social media marketing and Search Engine Optimisation, the two most important domains in digital marketing. 
The learning methodology includes on-campus learning with industry trainers, followed by personalized 1-on-1 mentor sessions for complete mastery of the topic. You'll then complete a 2-month mandatory internship to apply your learnings, followed by a capstone project.
The faculty includes industry thought leaders having worked for companies like Facebook, Google, Pepperfry.com, Kinnect, FoxyMoron, Schbang, etc. 
Student Reviews: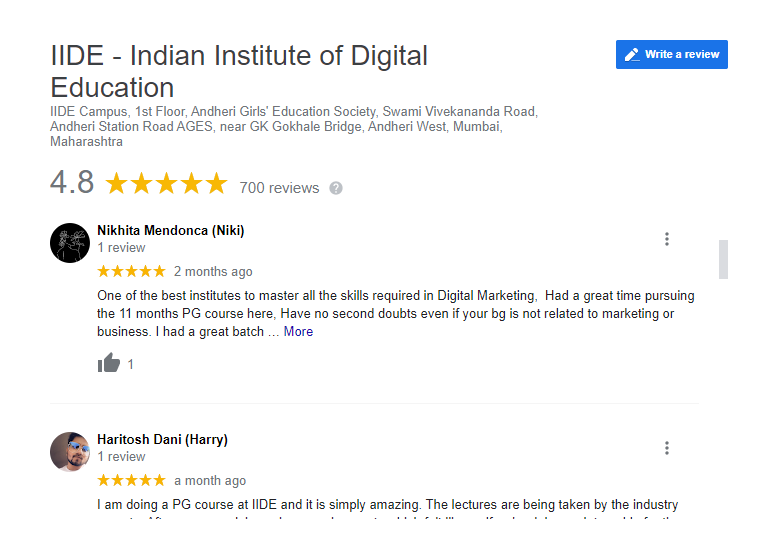 2. Techstack
The motto of Techstack Academy is 'Design your success path,' which they have followed up till now. They began offering training in 2012, and they have been committed to providing the greatest education to any ambitious marketer who comes their way to learn and improve since then. Techstack Academy allows students to improve their skills in the sector of their choice.
They have expanded into other courses such as Digital Marketing, Post-Graduation in Digital Marketing, Cyber-Security & Full-Stack Development Training, and many others after being in the sector for more than ten years. The academy's biggest feature has been its excellent placement record, in which they have placed the students in prominent MNCs.
Get acquainted with the classroom as well as online training through techstack's digital marketing course, which will add up to valuable hands-on training for your job progress. to choose your path to greatness. Techstack's digital marketing emphasizes equal importance on theory and practice while assisting you to practice putting your theoretical understanding into action
Student Reviews:
3. DIDM
The Masters in Digital Marketing Course at DIDM Institute of Digital marketing will teach you everything you need to know about marketing and advertising in the corporate sector. You will build and implement a solid digital marketing plan after completing this course.
This course is primarily intended for individuals with a creative mind who want to conduct business online, professionals who need to understand digital marketing solutions in order to pitch their clients or get more out of their digital channels, and job seekers who want to advance their careers and broaden their domain knowledge.
DIDM is a one-stop-shop for learning Digital Marketing skills at all levels, from executive to manager. They help people with their careers in a variety of ways, including resume writing, interview preparation, and more. With DIDM's 3-Month course, you'll be able to learn everything you need to know about digital marketing and you can grow your career or business to new heights.
Student Reviews:
Conclusion:
According to our evaluation, IIDE's digital marketing course may be a better fit for those who are comfortable with video-recorded lectures and live sessions both. But if you are someone who prefers only live lectures, then you can opt for Techstack or DIDM's digital marketing course, as both of them primarily teach through live online sessions.
Also please note that all three institutes provide career guidance and placement support to their students. So, no matter which course you take, you won't have to worry about placement assistance.
Always keep in mind to double-check the type, of course, you're enrolling in and whether it's online or offline. We hope you gained a better idea of what institutes are available and how to choose the right one for you as a result of this article.