If you are a marketing student, then you need to have knowledge of Digital Marketing to move forward in your career. Right now, Digital marketing is one of the most in-demand skills in the industry. Companies are looking for digital marketing specialists who will help them run their marketing campaigns in the digital world.
With that in mind, we at 360Career were curious as to how one could get involved in the business. We looked into different Digital Marketing courses being offered. We wanted to make a comparison for you, our reader, so you could make an informed decision about which institutes and courses to pursue.
But first, let's start with some considerations to keep in mind when you research different courses and institutes in order to make the best decision for you.
Criteria For Choosing The Right Course
1.  Understanding your requirements
Before opting for any course, first, sort out your needs. Find out the reason behind doing the course and your expected outcome.
2.  Choosing 'self-learning' or 'mentor-led training'
Your mode of learning may depend on whether you like to self-learn or like to be mentored. So, choose wisely between the two.
3.  Understanding the Course Structure and Trainers
Make sure to check the modules of the courses and also research the trainers that will teach you.
4.  Practical Component and Career Guidance
Internships, live projects, and a thesis are highly important when it comes to proving to employers your worth.
5.  Know their Fees and Schedule
Every course has different intensity of training and fee structure. So your task is to find the right balance between your budget and maximizing the knowledge you get from a course.
6.  Sign up for a Free/ Demo Session
You must 100% sign up for not 1 but 2 demo sessions if required.
Let's now dive right into the comparison between IIDE and LIIMS Institute
Criterias
IIDE
LIIMS
Admission Difficulty
Moderate
Moderate
Mode of Teaching
Instructor Led Live Sessions + Video Lectures
Online + Offline classes
Mentor-led Live Classes
Yes
Yes
Video Recorded Courses
Yes
Yes
Doubt Solving Sessions
Yes
N/A
Live Projects
4
Yes
Case Studies
Yes (From Harvard Business Review)
N/A
Practical Training
Yes
Yes
Managerial Skills
Yes
N/A
Visiting Faculty
Yes
Yes
Assignments
Yes
Yes
Assessments
Yes
N/A
Final Exam
Yes
Yes
Certification
Yes
Yes
Career Guidance
Yes
N/A
Placement Support
Yes
N/A
Course Duration
4 – 6 months
3-4 weeks
Ratings
4.8 on Google
(700+ Reviews)
4.8 on Google
(296 reviews)
Fees
AED 7000 – 9,100
AED 5,500
Location
On Campus + Online
On Campus and Online
Contact Details

Phone: +91 9619958615
Website: iide.co

Phone: +971555560353
Website:
www.liimsedu.com
Detailed Information About the Courses 
We have done some further research for you and written an in-depth overview of the type of courses the digital marketing institutes are offering. The following courses are the best institutes in India for digital marketing according to our research. So in no particular order, here are the top digital marketing institutes.
1. IIDE
This Online Digital Marketing Course by IIDE is 4 – 6 months long with intensive mentor-led training made especially for fresh graduates, college students, and professionals looking to take an upskilling break.
IIDE or the Indian Institute of Digital Education is located in the heart of Mumbai and Delhi, the hubs of marketing and ad agencies. Being one of the best institutes for Digital Marketing Courses, it offers a multitude of courses, from MBA-equivalent Post Graduation Diploma courses, Online Digital marketing Courses ( Advanced and Professional) to individual short courses in digital marketing, they have covered all needs of the learners.
On top of that, they have a robust placement cell and brilliant alumni. This course covers all the facets of digital marketing and has a key focus on social media marketing and Search Engine Optimisation, the two most important domains in digital marketing.
A unique 3 teacher method is adopted by them to personalize the learning process. Here's what it means:
3-Teacher Method via A 4-Step Methodology
Step 1: Start with Video Lectures
Step 2: Attend Live Online Sessions
Step 3: Book A Mentor
Step 4: In-Class Presentations
Their unique method or their hybrid learning model (as they call it) starts with a series of high-quality online video courses, followed by weekly live training sessions, custom-tailored 1-on-1 mentoring sessions, and in-class presentations.
The faculty includes industry thought leaders having worked for companies like Facebook, Google, Pepperfry.com, Kinnect, FoxyMoron, Schbang, etc.
Student Reviews for the digital marketing course: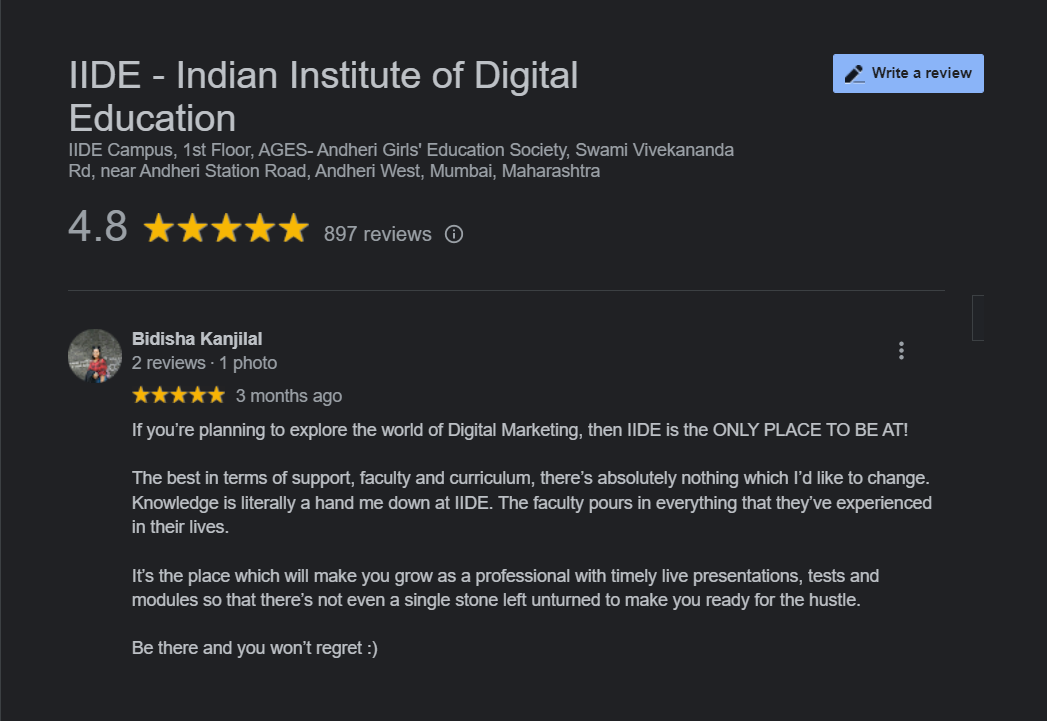 2. LIIMS
London International Studies and Research Center (LISRC) is a decade-old institution offering a wide range of University Degrees, Diploma Courses, and internationally accredited and certified training programs delivered 100% online worldwide, Offline in London and Dubai.
A "digital marketing expert certification" from the London Institute of Internet Marketing and Research Studies is a qualification for digital enthusiasts or anyone looking to transform their career by enhancing their knowledge of digital marketing.
Their courses specialize in creating digital strategies and online & offline course modules.
Student Reviews for the digital marketing course: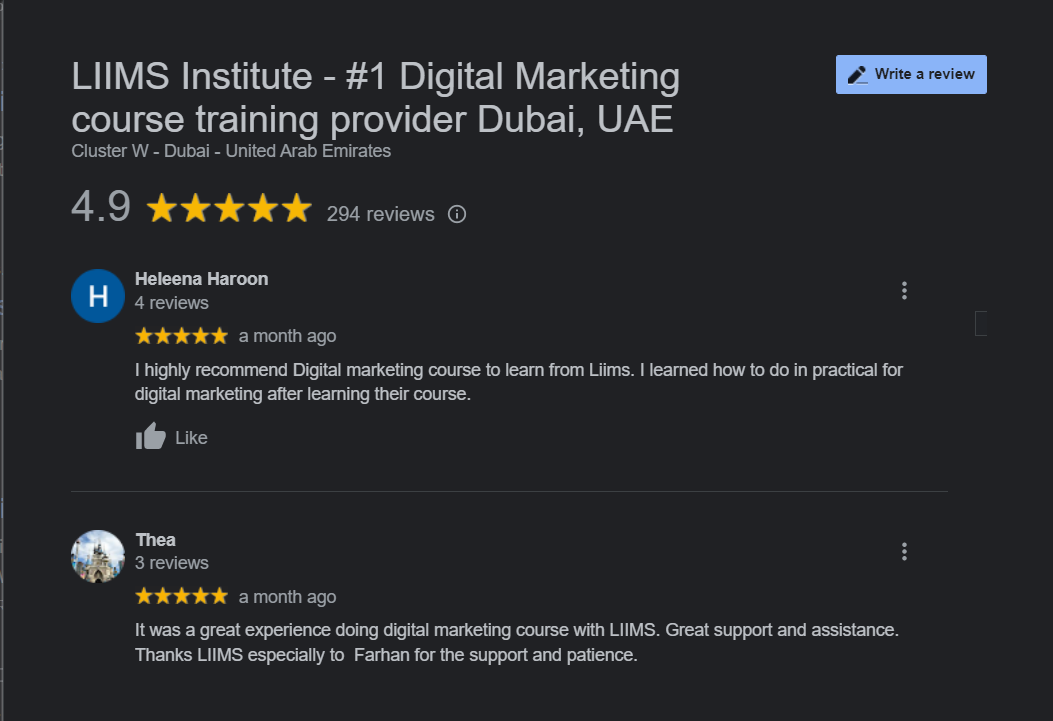 The Verdict
According to our evaluation, no matter which institutes you decide to opt for, all of them would provide quality education in the field of digital marketing.
But if you want to gain an in-depth understanding of digital marketing with the help of case studies and live projects along with employment assistance then IIDE's Online Digital Marketing Course would be a better fit for you.
We hope this blog helped you with your decision and now have a clearer understanding of what institutes are available and how to choose the right one for you. Leave a comment below if you would like us to review any other institute and draw a comparison!