Students interested in pursuing a career in marketing, as well as professionals looking to advance their careers, need to have knowledge about various digital marketing disciplines. With that in mind, we at 360Career were curious to learn more about how to break into the industry. We looked into a number of Digital Marketing Institutes and the courses they offered.
For you, our reader, we wanted to compare colleges and courses so you could make an informed decision about which institutions and courses to pursue. This article also discusses some factors to consider when selecting a course. We hope you find our analysis of the finest digital marketing schools useful. You need to select a good institute and program if you want to learn the intricacies of Digital Marketing. Here are 5 things that you should consider before enrolling in a training program.
Criteria For Choosing The Right Course
1. Understanding your requirements
Before opting for any course, first, sort out your needs. Find out the reason behind doing the course and your expected outcome.
2. Choosing 'self-learning' or 'mentor-led training'
Your mode of learning may depend on whether you like to self-learn or like to be mentored. So, choose wisely between the two.
3. Understanding the Course Structure and Trainers
Make sure to check the modules of the courses and also research about the trainers that will teach you.
4. Practical Component and Career Guidance
Internships, live projects, and thesis are highly important when it comes to proving to employers your worth.
5. Know their Fees and Schedule
Every course has different intensity of training and fee structure. So your task is to find the right balance between your budget and maximizing the knowledge you get from a course.
6. Sign up for a Free/ Demo Session
You must 100% sign up for not 1 but 2 demo sessions if required.
Let's now dive right into the comparison between IIDE, NSIM, and DSIM
Comparison – IIDE vs NSIM vs DSIM
IIDE

NSIM

DSIM

Admission Difficulty

Moderate

Easy

Easy

Mode of teaching

Instructor-Led




Live Sessions +




Video Lectures

Live Online Sessions




+ Offline

Live Online Sessions




+ Classroom Learning

Mentor-led Live Classes

Video Recorded Courses

N/A

Doubt solving sessions

N/A

Live Projects

8+

Case Studies

Practical Training

Managerial skills

Visiting faculty

N/A

N/A

Assignments

9+

Assessments

MCQ

N/A

N/A

Final Exam

Certification

Career Guidance

Placement Support

Course Duration

4 -5 Months




70+ Hours of




Live Learning

4- 6 Months

3 Months

Ratings

4.8 on Google




(640+ Reviews)

4.2 on Google




(288 Reviews)

3.9 on Google




(573 Reviews)

Fees

INR 98,250

INR 35,000




+ Taxes

INR 72,000

Location

Mumbai +




Online

Delhi +




Online

Delhi +




Online

Contact Details

Phone:




+91 9619958615





Website:




iide.co

Phone:




+91 9811020518





Website:




nsim.in

Phone:




+91

8800290309





Website:




dsim.in
Detailed Information About the Courses
We have done some further research for you and written an in-depth overview of the type of courses the digital marketing institutes are offering. The following courses are the best institutes in India for digital marketing according to our research. So in no particular order, here are the top digital marketing institutes.
1. IIDE
This online digital marketing course by IIDE is 4 – 5 months long with intensive mentor-led training made especially for fresh graduates, college students, and professionals looking to take an upskilling break.
IIDE or the Indian Institute of Digital Education is located in the heart of Mumbai, the hub of marketing and ad agencies. Being one of the best institutes for Digital Marketing Courses, it offers a multitude of courses, from MBA-equivalent Post Graduation Diploma courses, Advanced Online Digital marketing Certification courses to individual short courses in digital marketing, they have covered all needs of the learners.
On top of that, they have a robust placement cell and brilliant alumni. This course covers all the facets of digital marketing and has a key focus on social media marketing and Search Engine Optimisation, the two most important domains in digital marketing.
The course learning methodology of the course is – First watch Pre-recorded Lectures, then learn directly from your Trainer in Live Sessions and follow it up with 1-on-1 personalized mentor sessions for 100% mastery of the topic.
The faculty includes industry thought leaders having worked for companies like Facebook, Google, Pepperfry.com, Kinnect, FoxyMoron, Schbang, etc.
Student Reviews: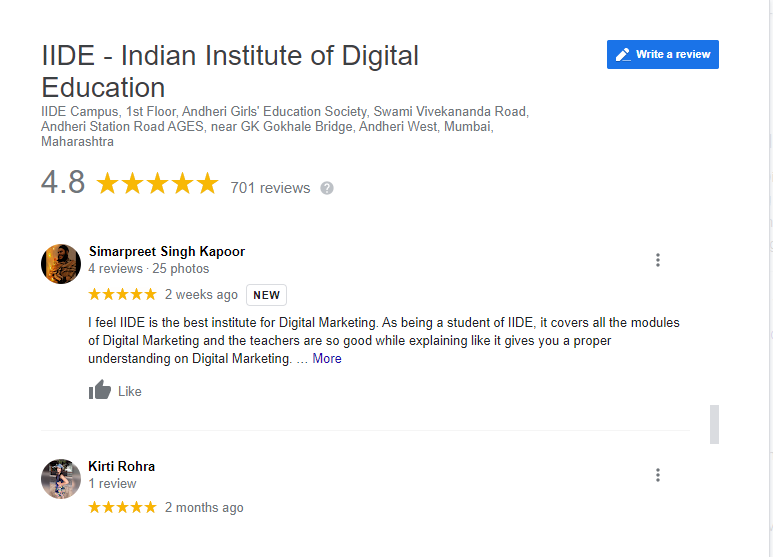 2. NSIM
In South Delhi, NSIM is a renowned Digital Marketing Institute. They have been offering online marketing professional courses for the past 5 years with 100% career support. More than 6000 students have successfully entered the Digital Marketing field after receiving these skills from the National School of Internet Marketing.
NSIM'S digital marketing course covers topics such as Web Designing, Email Marketing, Lead generation which are basically the top skills one needs to run their online business or lead a marketing campaign. Armoring their students with the latest digital marketing tools, they don't just offer certification but also a hands-on learning opportunity.
Using modern and advanced technological devices, as well as live projects, this Online Marketing Institute effectively performs career-oriented technical and practical lessons. They not only teach students about digital marketing but also assist them in developing their personalities. Not only that, but they also offer make-up sessions for those who miss some of their regular classes.
Student Review:
3. DSIM
Located In Delhi, The Delhi School of Internet Marketing offers full-fledged live classroom training. The main goal of the DSIM digital marketing institute is to make their students experts in internet marketing of any business, product, or service by giving in-depth education and practical experience.
They train advertisers on how to reach the proper target market at the lowest possible cost of acquisition. Over 930 batches and 25680 students have been trained by DSIM. In DSIM's digital marketing course valuable hands-on training is provided in weekday/weekend batches in a structured & live environment where trainees have access to practical application opportunities to practice and apply learned skills. Students will also get an opportunity to participate in industry-based projects and case studies as part of the course.
Student Review:
Conclusion
You can choose from a wide variety of courses to learn digital marketing in India, but choosing the right one can be difficult. It's important to remember that digital marketing is a practical field, so if you want to learn without taking a course, you have that option. Whereas a good course, can speed up the learning process, and help you understand the topics clearly but it all depends on your preferences.
Always make sure what type of courses you sign up for and see whether they are online or offline. We hope you learned a lot from this blog and now have a clearer understanding of what institutes are available and how to choose the right one for you.
Suggested Articles